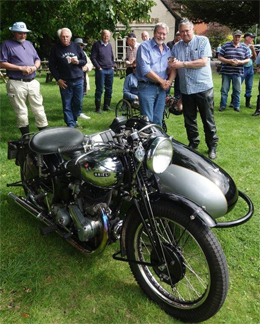 The Hoops at Barton
Sunday 18th August Anglian Section Concours and Club Barbecue. Venue, the Hoops at Barton. Sunshine guaranteed. Will Drew pull yet another Ariel out of the hat! Graham's burgers will be as good as ever! Politically correct and inclusive voting system! May contain nuts!
Look at the forecast for Sunday! Sunny intervals plus a moderate breeze. Looks like we will have decent weather for Sundays Concours and Club Barbecue. Get the polish out and away we go!

Graham has got the same man who does the gourmet burgers that we had last year and with a little salad and then some of Jan's apple pie, you wont need a lot more to eat!

We have an extra event, which is for the best two stroke. We normally have this on a club night, but the weather has been so bad earlier in the year that it has not been possible to hold it.

We normally get to the pub at about 11 am and assemble on the lawn. What actual time the pub opens its doors I am not sure but it never seems to distract us. I might even bring the Greeves. The smoke normally disappears before you can say "Friends of the Earth"!

Best regards,

Mike.