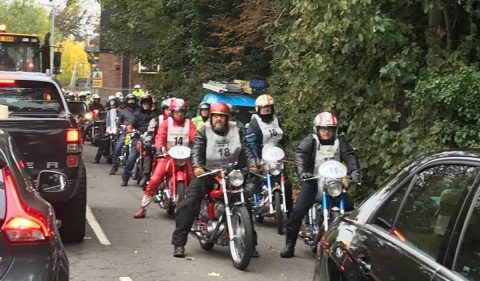 The attached photograph shows the number of motorcycles that turned up
out side Peter's house to join the Cortege and accompany Peter on his
last journey. The level crossing was down and it was a bit chaotic but I
reckon that there were 40 odd motorcycles there. The two at the front
are Peter's sons, riding his two Giro bikes, the Morini and the Ducati.
They stopped the traffic on the A14 to let us all get out on the road
just like Pete used to!
A cheerful service at Offord Church in the afternoon, followed by a wake
in the village hall next door where we all had tales of Peter and his
hilarious antics, completed a good send off.
From Mike Hobbs