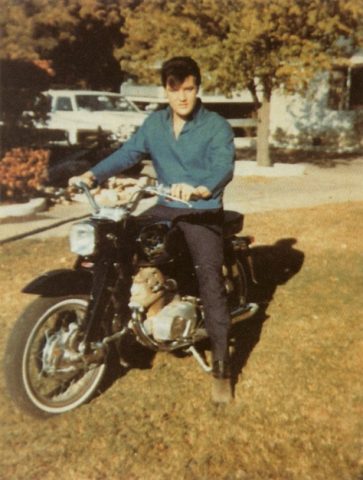 A Spanish Honda: Elvis has left the building

Would you buy a motorcycle without seeing it? Well plenty do just that and I guess from the popularity of sites such as Ebay most are pleased. However Phil one of the Sheffield lads we met in Derbyshire earlier this year bought a rare 4 cyl Kawasaki described as 'substantially complete' and imported it from USA. Although it looked really nice further inspection revealed it had no clutch, gears and various other inside parts missing. The good news is that Phil is not too bothered as he can source the parts and this rare Arberbike is worth the trouble.
It was heavy work lugging the R50 around the Derbyshire lanes. The idea of a lightweight with a starter settled in my mind. Mike zips along on his 200cc Yamaha and the Honda 250s seem popular in our section. I recently saw Chris Arber on a nice little Honda leaving his Vincent at home.
My Brother Phil lives much of the year in Coastal Spain. He and his Wife Denise are closely involved with the local English speaking Church where Denise knows all the Ex Pat ladies, and there are lots of them. While chatting I mentioned my thoughts on a lightweight and Denise remembered that one of her ladies had told her that her husband had a motorbike which he cannot register and has laid untouched in the garage for 24 years. Of course I asked her to make enquiries assuming I was close to finding a 4cyl MV (drum brake) or something just as nice.
Denise sent me the Guys Email, I introduced myself and asked about the bike. The reply was that it was part of a collection which was sold on emigrating. However this was his favourite and taken to Spain, it was NOT FOR SALE. He went on to say that he bought the bike in USA and had it shipped back. After some months after settling in he discovered it was not possible to register a used bike in Spain so it was stored. The bike is a 1965 305 Honda CA78 with 15k miles and NOT FOR SALE. I thanked him and left it at that.
Now saying a used bike cannot be registered in Spain is not totally correct. The paperwork including original (not copies) factory specifications must be sent and import duties paid, an inspection of conformity to original specification and a certificate of roadworthiness obtained which takes months. Cars for some reason are easier although still difficult. The Honda retained its UK registration.
Phil returned to Spain, met the owner and chatted about bikes. I had an Email saying that the owner will sell but his Wife wants to keep it and asked what I would do with the bike. Now I don't know if you have been involved in this silly behaviour but it really is childish. I replied that I would ride it on club runs. A few weeks later he decided to sell and mentioned he had bought it while on holiday in USA from a dear friend who has since 'popped his clogs' and that he had fond memories of the holiday and of rides on the Honda around Gloucestershire.
I asked for photos and received this showing the bike in his drive overlooking the sea. As for the condition he mentioned that it had suffered corrosion due to the salt air although paint was OK. The bike was a runner when in the UK. I asked for and received more photos, made an offer and to arrange collection which was accepted. I wanted Phil to have a look but he 'wisely' asked to be left out which I understood.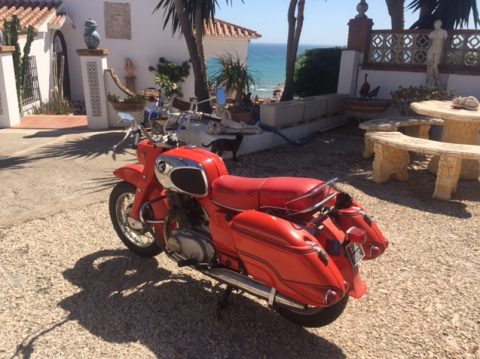 So how to get it to Cambridge? There are so many Ex Pats in Spain they have their own newspaper and www. I placed an 'ad' for bike transport to UK and within two days had around 8 replies mostly from people moving furniture etc. in vans. One was selected who was insured, had carried bikes before and was leaving end of the week, cost £200. The bike arrived here when I was on a club run. It was carefully parked with a large box tied to the seat. This contained handbook, manuals, toolkit, spare cables and a scrapbook containing pages and pages of cut out articles mainly on the Honda CB 77 models. This included information on tuning and racing mainly from USA sources. Clearly this bike had an enthusiastic owner.
The bike had been coated in a protective layer or maybe just oil. This was baked on and very difficult to remove, I ended up using White Spirit and wire wool even on the paintwork. The owners warning that the bike was corroded only applied to the front rim and the rest is what you would expect from a used bike.
Recommissioning.
New Continental 16" tyres were fitted by Tony Malthouse, it is far cheaper to buy tyres on line and have them fitted. Battery, oil, rear plate, the original was too small. Chain, cables, brakes all serviced. Tappets were checked and all OK, compression good. Cables are threaded inside handlebars and are original 52 year old. I removed cables from levers and made up a funnel sealed to the cable outer and filled with a mixture of 30 oil and WD40 working the cable until a horrible brown liquid dripped out.
Panniers are rather strange and were held by rusty brackets moreover the lower support was mounted on each silencer and had badly damaged the chrome. Existing brackets were modified with additional lower supports, avoiding silencers and blasted and powder coated. Each pannier has two red lights. One I have used as the brake, the other as an additional rear light which hasbeen retained.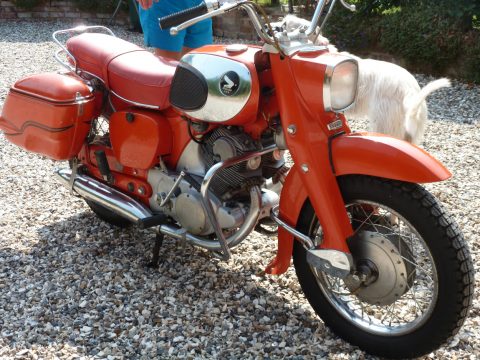 When I took the bike for MOT at Bassingbourn the lads in the Harley chopper shop came over and told me they were used on Harleys and offered me £800 for them.
With the bike on the bench Stuart Bennett called in and we decided it was ready for a start. A gallon of good stuff was poured in, no leaks, so far so good. I had checked the plugs and tappets. Pressed the RH button, the starter grunted and the engine spun over but no start, tried again no start. Plugs out checked and had a good spark. Tried again with choke on, no start. Removed the plugs and saw they were dry. Pulled off the pipe and plent
y of fuel there. This is a single carb engine and the float bowl is held using a spring clip. We removed the clip and the float bowl to see it was dry. I then touched the float which dropped down followed by a gush of fuel. Float bowl replaced, starter touched and immediate firing and smooth running.
So far I have done around 600 miles including runs to my Sisters in darkest Suffolk and two club runs. The engine is smooth and economical; gearbox and clutch are fine and handling good. Cruising at 55 to 60 is nice although more is no doubt there, but who needs to rush.
Three concerns remain.
1 Front brake is not good. This has been relined by a 'professional' who bonded shoes and skimmed to the drum and is still useless.
2 Clutch thrust rod adjuster is seized in the RH case, need to remove the case and get it on the bench.
3 There seems to be another HONDA CA78 having same registration. This came to light when the MOT man typed in the number and saw that an MOT was made a couple of years ago in Berkshire, when the bike was in Spain??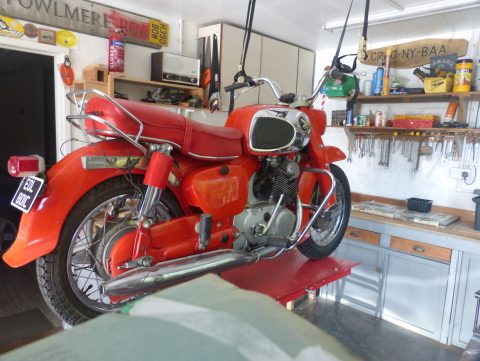 There were advisories which did not match this bike. I have received the Registration document from DVLA and decided to ignore this 'twin'.
Hope to be out and about on it next year.