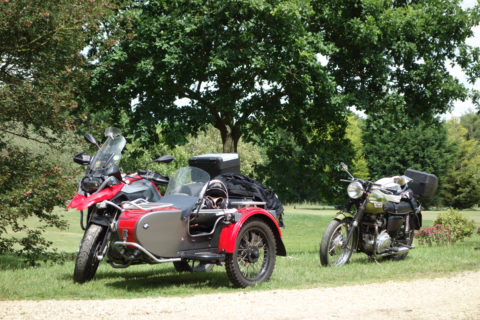 Three Wheels On My Wagon by Roger Newark – previously printed in the BMW Club magazine
I was asked if I would put some words together about the new BMW sidecar outfit that I have recently acquired. However, I thought it was probably appropriate to say why I had such a soft spot for sidecar outfits during my life. It all began when I was 16 years old (in 1960) and wanted to buy my first motorcycle. Like many people I found that there was a certain amount of parental objection to this course of action, but it seemed to lessen when I said I would buy a combination instead of a solo. There wasn't a history of motorcyclists in my family, although my Mum did talk about the "enormous" sidecar outfit that her Dad had when she was a small girl. No photos of that outfit ever existed, so I have no idea what it might have been – except I have some letters of reference for him when he moved on from his engineering job with the Wilkinson Touring Machine Co. around the time of the First World War. So could it have been one of those remarkable four cylinder Wilkinsons I wonder?
So I then bought my first outfit, which was a 500cc AJS with a sidecar (£10.00) on which I passed my test. Several other outfits followed, mainly BSAs and Ariels until I eventually bought my first BMW, an R69 that I bought from Fred Secker, later to become President of our Club. I fitted that with a Watsonian GP Sports sidecar, which I had purchased from Mundays of Brixton. Until this time, which was some 10 or 11 years after passing my test on an outfit, I have never owned a solo. This changed when I decided that I would do some green laning, having read the articles written by John Ebbrell in the old "Motor Cycle" magazine ("the Blue 'Un"). When I gave up green laning after 20 years, I found I still had a hankering for another outfit, and so I bought myself a 1965 R60/2 and restored a Steib S501 sidecar, that I then fitted onto the bike, so I was back with three wheels once again. That outfit earned its keep quite handsomely at one point, when it was hired by the Dunhill Menswear company to be displayed in their London showrooms, when they launched a new range of "Sidecar" pens and leather luggage. It also went on display in the Saatchi gallery, and at one point it was taken in secure transport to Paris for a photoshoot. It was a very pretty outfit, but for my size (I'm 6' 4") I had to admit that these Earles fork BMWs were a little on the small side for me, and I used to feel quite cramped when riding it. After 19 years of ownership I sold the outfit in April 2018 and started to look for a more modern BMW outfit, although nothing that I saw advertised really jumped out at me.
My solo BMWs at that time were a 1971 R75/5 and a 2015 GS 1200 LC, and the thought occurred to me that if I had a sidecar fitted to the GS, with 125bhp, there would be all the power that I needed, to have a very tasty outfit. With that idea in mind I spoke to Ben Matthews at Watsonian Squire to see what the possibilities were of them fitting one of their chairs onto the GS. Ben thought that rather than one of the current Watsonian range of sidecars, a Ural chair would actually complement the GS rather better, inasmuch as it was a more rugged chair with high ground clearance in the style of the GS. I did ask Ben if there would be any problems in them tackling the Canbus electrics, and he said no, there shouldn't be as they had done this on other late model BMWs. It so happened that they had a low mileage second-hand Ural in stock, and we agreed on a colour matched scheme for the complete outfit. And so I left the bike with Watsonian for a few weeks, while they fabricated as suitable subframe, had the chair painted and did one or two other jobs that I had requested. I had suggested a steering damper being fitted to the to the outfit, but Ben said that there would be no need, and when I finally picked the outfit up and rode it for the first time I couldn't help but agree with him. There was absolutely no sign of any head shake whatsoever, it was a beautiful setup, and my first trip out was some 190 miles, which I completed without any sign of an ache across my shoulders, so I can only conclude that their fitting service is second to none. I had avoided looking at leading link forks as part of the specification, because I thought I would like to give the Telelever front end a chance, similarly with any type of trail adaptor for the front wheel. So far that decision appears to be the right one.
So what is the appeal of sidecar outfits to me? I have seen them described as a lop-sided, three wheeled conveyance with the aerodynamic shape of a lump of coal. And if they had not been invented until 2019, they probably wouldn't be allowed in today's Nanny state. Well, they are nothing like a solo to ride, they need riding (driving?) into left handers differently to right handers, but once that has been mastered, they are FUN. I have heard critics say that bolting a sidecar onto a bike is the ruination of a good motorcycle – but I have never heard that said by someone who has properly mastered riding them. One word of warning – when you go on a run or to an event with your solo riding buddies, you will find that you have suddenly become everyone's best mate, as you get requests to leave their riding gear in your sidecar!
If you fancy delving into the world of sidecars, then the following websites could be of interest to you.
Watsonian Squire www.watsonian-squire.com
F2 Motorcycles http://www.sidecars.org.ukwww.f2motorcycles.ltd.uk/index.html
Federation of Sidecar Clubs http://www.sidecars.org.uk/